Last year Pakistan experienced the worst flooding disaster in its history. Rotary Club of Karachi with the help of Rotary clubs around the world, collected and organized food, clothing and shelter for the flood victims. We mobilized our volunteers on a war footing and organized the biggest flood relief effort in our clubs history.
website links to our efforts during the Floods in 2010:
This year again, more floods triggered by heavy rains have devastated parts of Southern Pakistan.  More than a million people have been affected and tens of thousands have lost their homes in this region which had not recovered from last year's floods. And the worst floods to hit the region in 80 years could get worse, as it is only midway through monsoon season.
"Flooding has submerged whole villages in the past week, killing at least 1,600 people, according to the UN.
According to the federal flood commission, 1.4m acres (557,000 hectares) of crop land has been flooded across the country and more than 10,000 cows have perished.
Immediate priorities for survivors are clean drinking water, food and medical assistance.
Rotary Club of Karachi with our partner clubs is organizing medical relief camps, food items collection and Rotary shelter boxes / tents and are seeking assistance from our international donors, clubs and organizations to partner with us so we can mount a combined effort in order to organize relief operations as soon as possible.
You can help / support / partner with us in the following ways:
In-kind / Items
We need medicines, clothes and footwear specially for children. We will be collecting these items at our Rotary Community Center, Gulistan e Jauhar and sending these articles to the flood effected areas.
We will utilize the good offices of Rotarians in the flood effected areas to ensure proper distribution of these items.
You can drop these items / medicines at our Community Center located at
ST-3, Block 1, Opposite Abdullah Heights, Gulistan e Johar, Karachi
Ph: 34661541-2, 34222712-3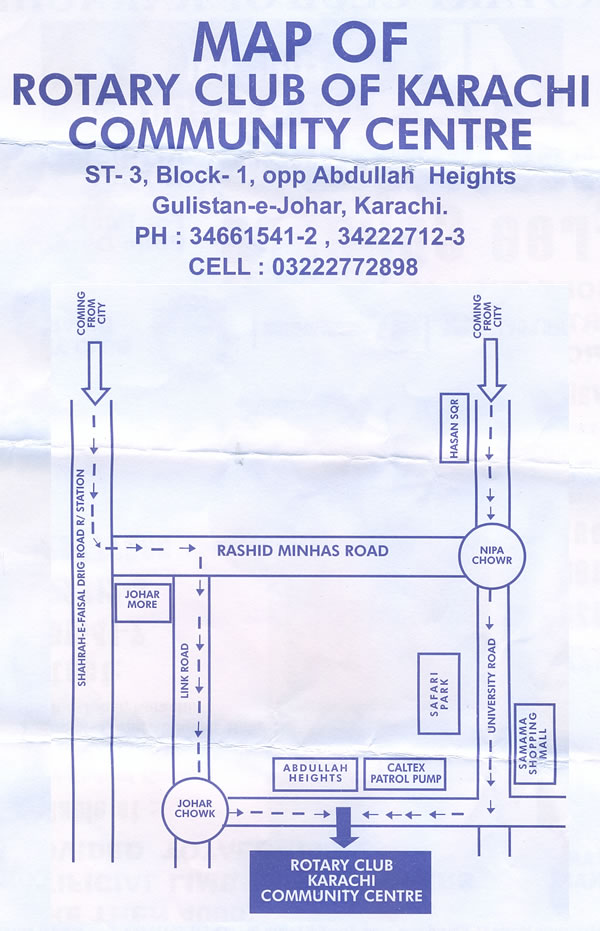 Please also find below a list of medicines required for the affected people
Tabl. Metrozine
Tab. Metadine
Tab. Dependal
 Tab. Flaggly
Tab/Syrup. Gravinate
Stematil 5mg
Tab. Naspa
Tab. Imodium
Tab. Lorival
Tab.Periton
Tab.Evil
Tab. Vaydal
Skin Ointments & Others
Dermavate
Polufax
Gentacine
Xyloaid iv. Drip
Ringer dextrose
Flagel
Novidate infusion
Ciprofloxacine
We will utilize the medicines in our medical camps.
Your wholehearted support and Rotary spirit will be highly appreciated.
Or you may donate to our flood relief  fund setup specifically for this purpose. Details are as under:
Rotary Club of Karachi Charitable Trust
Standard Chartered Bank NY USA
ABA No 026002561, SWIFT Code SCBLUS – 33XXX  for credit to
Bank Al Habib Ltd Account No: 3582035242001 for further credit to
BAHLPKKAKHI for ultimate credit to
Rotary Club of Karachi Charitable Trust
Account No: 1001-0081-168218-01-7
Note: Please send an email to rotarykhi@gmail.com with the donation details so we may check with the bank and send you a receipt / accounts / pictures for your record. We can also provide you a Certificate for Income Tax exemption for use in Pakistan.